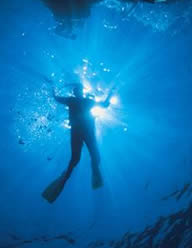 Scuba Shops Directory
Scuba diving is a great way to view the amazing world under the ocean. With the wide availability of scuba shops, diving schools, and instructors, even a beginner can enjoy the thrill of diving. Look for a school and scuba shops where there are four students or less per instructors. This ensures that you will get the instructor's full attention and is much safer in case there is an emergency situation in the water.
If you are a novice, hold off on purchasing your own scuba diving gear from nearby scuba shops until you are comfortable with the process and know what you will need from your equipment. Most scuba shops will also rent equipment, so this may be a more economical choice if you only plan to dive a few times per year. You will need basic scuba diving gear such as a scuba mask, wetsuit, swim fins, and all the equipment associated with the oxygen tank system. In addition to the tank itself, a regulator is necessary to convert the compressed air into a form that can be breathed in. Buoyancy compensators and cylinder belts are used to help the scuba diver adjust his or her position in the water.
Welcome New Companies:



A-1 Scuba Diving And Snorkeling Adventures



A-1 Scuba Diving & Snorkeling Adventures is a Full Service "Bricks and Mortar" PADI 5 Star Instructor Development Center, SDI/TDI Dive Facility,and DA...



Trevose, Pa
Latest Reviews:



Scuba World Inc in Belleville, IL
from John B.
We drive several miles further from St. Louis, MO to get to Belleville, IL to do business with these people. They consistently provide the most profe...Details
From Our Blog:
Scuba Diving Safety Tips
Scuba diving is a hobby enjoyed by tens of thousands of people each year without incident. However, to prevent incident, these people have had hours of training and instruction on how to do it the right way and how to use the instruments needed to dive. If you have never been on a dive before, there are certain things you need to consider before you step over the side of the boat with equipment... Continue Reading
Welcome new pro's!
Atlantis Divers in Vernal, UT
Force E Scuba Center in West Palm Beach, FL
Mac Millan Outdoor Power Equipment in Salisbury, MD
Ryan Weber's Scuba Instrument in Marco Island, FL
University Dive Center in Howardsville, VA
Catalina Snorkel & Scuba in Avalon, CA
Aqua Cat Cruises in Fort Lauderdale, FL
Reese Allen J in Gastonia, NC
Claudine's Private Swim in Lawrence, KS
Ghost Fleet Dive Charters in Kill Devil Hills, NC
Lake Rawlings in Rawlings, VA
Mc Call Brothers Diving in Salem, SC
Anchor Dive Center Inc in Fort Wayne, IN
Dive World Scuba & Swim Center in San Antonio, TX
Scuba Scrubbers in West Palm Beach, FL