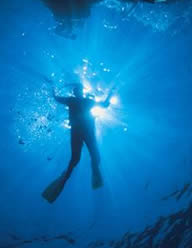 Scuba Shops Directory
Scuba diving is a great way to view the amazing world under the ocean. With the wide availability of scuba shops, diving schools, and instructors, even a beginner can enjoy the thrill of diving. Look for a school and scuba shops where there are four students or less per instructors. This ensures that you will get the instructor's full attention and is much safer in case there is an emergency situation in the water.
If you are a novice, hold off on purchasing your own scuba diving gear from nearby scuba shops until you are comfortable with the process and know what you will need from your equipment. Most scuba shops will also rent equipment, so this may be a more economical choice if you only plan to dive a few times per year. You will need basic scuba diving gear such as a scuba mask, wetsuit, swim fins, and all the equipment associated with the oxygen tank system. In addition to the tank itself, a regulator is necessary to convert the compressed air into a form that can be breathed in. Buoyancy compensators and cylinder belts are used to help the scuba diver adjust his or her position in the water.
Welcome New Companies:



Island Divers Cozueml



A PADI Dive Center offering guided dives, gear sales, and travel. Fast boats. Let Island Divers Cozumel book your next trip to Cozumel...



San Miguel de Cozumel, Q
Latest Reviews:



Scuba J'S Dive Shop in Ardmore, OK
from matt d
Even though this is a small shop, Jay is very helpful and nice. He has all you need to go diving at lake murray. If he has a trip schedules to Mexic...Details
From Our Blog:
Common Places To Go Scuba Diving
Scuba Diving Locations When the word scuba diving is mentioned, do you think of women in bikinis in tropical regions? Or do you think of an action scene in a movie where the star knows how to scuba dive, fight off a bad guy while injured and still save the day? Both scenarios are associated with scuba divers, but one is a little more realistic than the other. There are some locations around... Continue Reading
Welcome new pro's!
Mike Parnell's Magnum Scuba in Chicago, IL
Scuba Check in Atlanta, GA
Sandia Snorkel & Scuba in Albuquerque, NM
Lone Star Scuba in Fort Worth, TX
Gigglin Marlin Divers in Houston, TX
Bubbles Up Diving & Travel in Chandler, AZ
South Florida Diving in Pompano Beach, FL
Gutherie Marine Contracting in Kittanning, PA
Gym Quest in Richmond, VA
Adventure Sports Unlimited in Santa Cruz, CA
Ocean Management Systems Inc in Middletown, NY
Great Lakes Divecenter Inc in Utica, MI
Tom's Dive Center in Moberly, MO
Broken Bow Scuba in Broken Bow, OK
Pro Scuba Center Inc. in Rocky Mount, NC