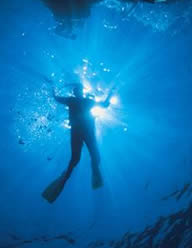 Scuba Shops Directory
Scuba diving is a great way to view the amazing world under the ocean. With the wide availability of scuba shops, diving schools, and instructors, even a beginner can enjoy the thrill of diving. Look for a school and scuba shops where there are four students or less per instructors. This ensures that you will get the instructor's full attention and is much safer in case there is an emergency situation in the water.
If you are a novice, hold off on purchasing your own scuba diving gear from nearby scuba shops until you are comfortable with the process and know what you will need from your equipment. Most scuba shops will also rent equipment, so this may be a more economical choice if you only plan to dive a few times per year. You will need basic scuba diving gear such as a scuba mask, wetsuit, swim fins, and all the equipment associated with the oxygen tank system. In addition to the tank itself, a regulator is necessary to convert the compressed air into a form that can be breathed in. Buoyancy compensators and cylinder belts are used to help the scuba diver adjust his or her position in the water.
Welcome New Companies:



Carolina Dive Center



Carolina Dive Center is a NAUI Pro and SDI Five Start ITC Scuba Center. Our services include Scuba Certifications , a wide variety of Scuba Gear, Fact...



Raleigh, NC
Latest Reviews:



Dive Sight Prescription Lenses in Milwaukee, WI
from Ray C
Ground lenses are ground lenses and almost everybody gets the prescription correct. The real key is the bonding method. We have tried several brands...Details
From Our Blog:
Scuba Diving Hot Spots
Once you consider learning how to scuba dive, you will probably want to schedule a trip where you can actually go and use your skills. Or maybe it is the other way around – you know where and when you are going on vacation, so you are working on your scuba diving skills in order to get certified to take several scuba adventures in while you are gone. No matter which option sounds more like you,... Continue Reading
Welcome new pro's!
A & H Aquatic Adventures in Williamstown, NJ
Deep Six Tours in Charlotte, NC
Scuba Central in Winter Haven, FL
Dive Shop in San Marcos, TX
IB Divers in Imperial Beach, CA
REC Diving Blue Chip Travel in Royal Oak, MI
Professional Diving Service Inc in West Sunbury, PA
Scuba Network in New York, NY
Stemic Enterprises Inc in Fort Myers, FL
Diving Locker Ski Chalet in Savannah, GA
Action Sports & Travel in Pittsfield, MA
General Aquadyne in Santa Barbara, CA
Scuba One in Mandan, ND
Project Scuba in Killeen, TX
Deep Blue Divers Aquatic Center in Fort Wayne, IN