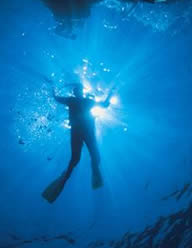 Scuba Shops Directory
Scuba diving is a great way to view the amazing world under the ocean. With the wide availability of scuba shops, diving schools, and instructors, even a beginner can enjoy the thrill of diving. Look for a school and scuba shops where there are four students or less per instructors. This ensures that you will get the instructor's full attention and is much safer in case there is an emergency situation in the water.
If you are a novice, hold off on purchasing your own scuba diving gear from nearby scuba shops until you are comfortable with the process and know what you will need from your equipment. Most scuba shops will also rent equipment, so this may be a more economical choice if you only plan to dive a few times per year. You will need basic scuba diving gear such as a scuba mask, wetsuit, swim fins, and all the equipment associated with the oxygen tank system. In addition to the tank itself, a regulator is necessary to convert the compressed air into a form that can be breathed in. Buoyancy compensators and cylinder belts are used to help the scuba diver adjust his or her position in the water.
Welcome New Companies:



Oxford Scuba



Our founder and owner, Craig Mathews, was born and raised in Southern Ohio. From childhood, the idea of weightlessness and dreams of escaping gravity ...



Oxford, OH
Latest Reviews:



Portsmouth Scuba in Portsmouth, NH
from Steven Eastman
I got my open water certification with Portsmouth Scuba. They are the best for knowledge and instruction. ...Details
From Our Blog:
What Are Scuba Diving Certifications
When you are talking to someone about scuba diving, they keep throwing out certified and certification classes they took before they went in the water. You thought they were just going on vacation, why did they get certification on something they were only going to do once? Or maybe even twice if they ever go on vacation again? Why would you take all of the time to get certified on something?... Continue Reading
Welcome new pro's!
Scuba Network in Totowa, NJ
Scuba Quest Outlet in Key Largo, FL
C. Chapman Enterprises in Bend, OR
Mountain Paradise Scuba in Garden City, ID
Fortier's Opticians in Santa Cruz, CA
Tropical Scuba in Jacksonville, FL
Strike Zone Charters Inc in Big Pine Key, FL
KLG Scuba Center in Los Angeles, CA
Aquatech Scuba Center in Evansville, In
All Wet Scuba in Tempe, AZ
C & D Diving Inc in Columbia, TN
Blackledge Diving in National City, CA
Speakes for Diving in Fresno, CA
Nancy Boucher in Cape Neddick, ME
Niagara Scuba Center in Niagara Falls, NY