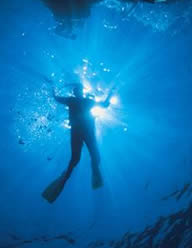 Scuba Shops Directory
Scuba diving is a great way to view the amazing world under the ocean. With the wide availability of scuba shops, diving schools, and instructors, even a beginner can enjoy the thrill of diving. Look for a school and scuba shops where there are four students or less per instructors. This ensures that you will get the instructor's full attention and is much safer in case there is an emergency situation in the water.
If you are a novice, hold off on purchasing your own scuba diving gear from nearby scuba shops until you are comfortable with the process and know what you will need from your equipment. Most scuba shops will also rent equipment, so this may be a more economical choice if you only plan to dive a few times per year. You will need basic scuba diving gear such as a scuba mask, wetsuit, swim fins, and all the equipment associated with the oxygen tank system. In addition to the tank itself, a regulator is necessary to convert the compressed air into a form that can be breathed in. Buoyancy compensators and cylinder belts are used to help the scuba diver adjust his or her position in the water.
From Our Blog:
Jobs That Use Scuba Diving
The first thing you think of when you think if a scuba diver is someone who is on vacation, in a warm, sunny location and looking at fish. While this is probably true for a lot of people, there is much more to scuba diving. There are many occupations that require scuba divers and people who have the knowledge to scuba dive. Are you interested in finding out more about these occupations, because... Continue Reading
Welcome new pro's!
Divers Expo Inc. in Monroe, NY
Central Massachusetts Scuba in Worcester, MA
NASE World Wide in Layton, UT
Coeur D'Alene Scuba Center in Coeur D Alene, ID
Aquarius Dive Shop in Monterey, CA
Let's Go Diving! Co. in Ellisville, MO
Clearwater Divers in Austin, TX
Peace Scuba Center & Peace Dive Boat in More Peace Service, Mo
Newport Marina Store & Charter in Newport, OR
Aquatic Connection in Dundalk, MD
JMJ Manufacture Wetsuits in Torrance, CA
Holiday Divers in Dania, FL
Vortex Spring in Ponce De Leon, FL
M & M Diving in Menominee, MI
Openwater Habitat Marine Scuba in Riverside, CA