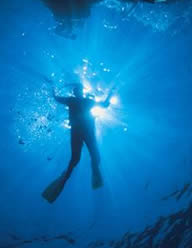 Scuba Shops Directory
Scuba diving is a great way to view the amazing world under the ocean. With the wide availability of scuba shops, diving schools, and instructors, even a beginner can enjoy the thrill of diving. Look for a school and scuba shops where there are four students or less per instructors. This ensures that you will get the instructor's full attention and is much safer in case there is an emergency situation in the water.
If you are a novice, hold off on purchasing your own scuba diving gear from nearby scuba shops until you are comfortable with the process and know what you will need from your equipment. Most scuba shops will also rent equipment, so this may be a more economical choice if you only plan to dive a few times per year. You will need basic scuba diving gear such as a scuba mask, wetsuit, swim fins, and all the equipment associated with the oxygen tank system. In addition to the tank itself, a regulator is necessary to convert the compressed air into a form that can be breathed in. Buoyancy compensators and cylinder belts are used to help the scuba diver adjust his or her position in the water.
Welcome New Companies:



Day Divers



We are a full service dive shop with a PADI instructor. Days divers is the only dive shop in Kalamazoo County. We offer dive trips at a low price and...



Portage, MI
Latest Reviews:



Scuba Quest Outlet in Key Largo, FL
from Corrine M
I would highly recommend this scuba store. Having grown up in South Florida and visiting frequently, I'm familiar with a lot of the dive shops in the...Details
From Our Blog:
The Variety Of People Who Use Scuba Diving
There are no rules on who can be a scuba diver. There are only rules involved when you want to perform certain dives or instruct other people on diving. Anyone who wants to attempt scuba diving can, after they at least take a basic class on learning the instruments and what is required of a scuba diver. Men, women, young, old – anyone with the proper training can go scuba diving in any region of... Continue Reading
Welcome new pro's!
Jennie's Auto School in Milford, MA
U S 1 Scuba Inc in Pompano Beach, FL
Divers Isle in Hillsboro, TX
Black Canyon Divers in Montrose, CO
Scuba New York Inc in Yonkers, NY
Dive California in San Diego, CA
Anderson's Ski & Dive Center Inc in East Greenwich, RI
Aqua Adventures Ski Rentals in Burbank, CA
Openwater Habitat Marine in Santa Ana, CA
Divers Supply Paintball & More in Macon, GA
Dive Locker Scuba Instruction in Charleroi, PA
GSC Sports - Scuba School in Lubbock, TX
Bubbles Up Diving & Travel in Chandler, AZ
Hart City Scuba in Elkhart, IN
SEKA Sports Inc in Bell, CA