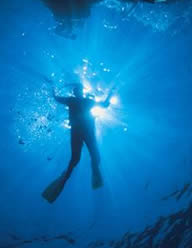 Scuba Shops Directory
Scuba diving is a great way to view the amazing world under the ocean. With the wide availability of scuba shops, diving schools, and instructors, even a beginner can enjoy the thrill of diving. Look for a school and scuba shops where there are four students or less per instructors. This ensures that you will get the instructor's full attention and is much safer in case there is an emergency situation in the water.
If you are a novice, hold off on purchasing your own scuba diving gear from nearby scuba shops until you are comfortable with the process and know what you will need from your equipment. Most scuba shops will also rent equipment, so this may be a more economical choice if you only plan to dive a few times per year. You will need basic scuba diving gear such as a scuba mask, wetsuit, swim fins, and all the equipment associated with the oxygen tank system. In addition to the tank itself, a regulator is necessary to convert the compressed air into a form that can be breathed in. Buoyancy compensators and cylinder belts are used to help the scuba diver adjust his or her position in the water.
Welcome New Companies:



A-1 Scuba Diving And Snorkeling Adventures



A-1 Scuba Diving & Snorkeling Adventures is a Full Service "Bricks and Mortar" PADI 5 Star Instructor Development Center, SDI/TDI Dive Facility,and DA...



Trevose, Pa
Latest Reviews:



C & J Sports in Eureka Springs, AR
from Pamela Schwab
This is the best dive group I have met. The instructor is patient and well versed in his profession. I have enjoyed every time I have been to Eureka...Details
From Our Blog:
Taking Scuba Diving Classes
Before you can go out in the water, with your scuba diving gear on, you will need to take a class. The classes for people who are learning how to do it are very important, so they are only taught by certified instructors. If the instruction was wrong on how to use the equipment, then it could harm a person or cause them an injury or even death. Scuba diving is tricky to do at first, but once you... Continue Reading
Welcome new pro's!
Atlantis Commercial Diving Inc in Cape Coral, FL
Dive West in Dallas, TX
Bagala's Diving Inc in Cut Off, LA
Drysuit Divers in Juneau, AK
Seaview Scuba Inc in Quaker Hill, CT
Chicagoland Scuba Center Inc in Lake Zurich, IL
Louisville Dive Center in Louisville, KY
Blue Chip Travel in Royal Oak, MI
American Underwater Service in Nashville, TN
Under Sea Adventures Inc in Kennewick, WA
Fins First Divers in Bensalem, PA
Diver Down Scuba in Marquette, MI
Captain Nemo's Dive Shop in Columbia, MO
Seaduction Dive Service in Dunn, NC
Aquatic Discount Scuba in Escalon, CA